LASER FLORENCE 2019 – XXX edizione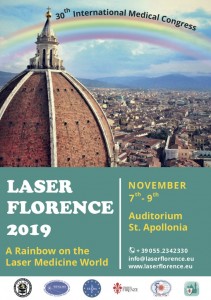 Dal 7 al 9 novembre 2019 si terrà a Firenze il Congresso Medico Internazionale LASER FLORENCE 2019 giunto alla sua trentesima edizione. Tale incontro è considerato tra i più celebri eventi riguardo le applicazioni laser in campo medico, riunisce esperti negli ambiti della chirurgia, della fisica, della biologia e dell'ingegneria provenienti da tutto il mondo.
La conferenze è stata fondata dal Professor Leonardo Longo con il quale quarant'anni fa il Professor Bastianelli, anch'egli tra i fondatori della prima edizione, approcciò agli iniziali tentativi di applicazione del laser in medicina.
Il Professor Bastianelli, essendo tra i coordinatori del capitolo Laserlight in Surgery,  si occuperà attraverso relazioni, tavole rotonde e corsi della discussione delle applicazioni del laser in otorinolaringoiatria.
Scientific board
°J. Aguilera, MD (Paraguay) – President, Paraguayan Society of Laser Medicine and Surgery, Asuncion
°F. Al-Watban , BSc, MSc, PhD (SA) – President, World Academy Laser Applications, Ryihad
°J.J. Anders, BiD, PhD (USA) – Prof of Anatomy, Physiology, Genetics, Neurosci., USUHS Bethesda
°Apirag Chuangsuwanich, MD, PhD (Tha) – Plastic Surg. Dept, Siriraj Hosp ,Mahidol Univ, Bangkoknoi, Bangkok
°A. Baruchin, MD, PhD (ISR) – Plastic Surgery Dept, Ben-Gurion Univ. Beer-Sheba, Askelon
°G. Bastianelli, MD (I) – ENT, Firenze
°G.D. Baxter, TD, BSc, DPhil, MCSP (GB) – Dean, Otago Univ. (NZ), School of Health Sciences
°S. Benedicenti,MD, DDS (I) – Dentistry Institute, University of Genova
°Cheng-Jen Chang, MD (TW) – Plastic Surgery Dept. – Univ. of Taipei
°T. Dostalova, MD (Czech Rep) – Charles Univ. 1st Medicine Faculty, Dept of Stomatology, Prague
°C. Fornaini, MD, DDS (I) – Odontostomatology Institute, Parma University
°A. Hofstetter, MD, PhD (D) – Former Director, Urology Institute, Munche University
°H. Jelinkova, MD, PhD (Czech Rep) – Czech Technical Univ. -Nuclear Sciences Phys.Eng, Prague
°T. Karu, BiSc, PhD (Rus) – Russian Academy of Sciences
°K. Khatri, MD (USA) – Skin & Laser Center, Boston Cambridge
°K. Korotkov, PhD (Rus) – Physics Institute, St. Petersburg University
°K. Kovacs, DVM, PhD (HU) – Laser Vet Clinic, Budapest
°S. Krishna, MD (India) – President, International Society for Laser Surgery and Medicine
°J. Jagdeo, MD, PhD (USA) -
 Associate Professor, University of California – Davis, Brooklin, N.Y.
°A. Lauto, PhD (AUS) – Physics Dept, Sidney University
°P. Lippi, PT, MSc (I)
- DAF, Florence University
°L Longo, MD (I) – President, International Academy Laser Medicine and Surgery, Firenze (Brazil) -
°R. Lopes-Martins, PhD (Brazil) – 
Dean of Biomedical Eng. at University of Mogi das Cruzes – SP – Brazil
°R. Lubart, BiD, PhD (ISR) – Biology Dept, Bar-Ilan University, Ramat-Gan
°A. Mester, MD, PhD – Budapest University
°E. Merigo, MD, DDS (I) – Fac.of Dentistry – University of Nice "Sophia Antipolis"
°L. Navratil, MD, PhD (Czech Rep) – Czech Tech. University in Prague, Fac of Biomedical Engineering
°K. Nouri, MD, PhD (USA) – 
Dermatology Institute, Miami University
°M.L. Pascu, PhD (Rom) – Physic Institute, Bucharest University
°A. Pinheiro, DDS, PhD (Brazil) – Dentistry Dept., Bahia University
°R. Pirvulescu, MD (Rom) – Institute of Ophtalmology, Bucharest University
°J.P. Rocca, DDS, PhD (France) – Lab of Oral Health and Aging-Univ. of Nice Sophia Antipolis, Nice
°S. Rockhind, MD, PhD (ISR) – Neurosurgery dept, Tel Aviv University
°K. Samoilova, PhD (RUS) -
Inst. of Cytology-Russian Acad Sciences, St. Petersburg
°F. Sicurello, PhD (I) – Associate Professor, Medical Informatics, Bicocca University, Milano
°P. Smalley, TN (USA) – Tecnology Concepts International, Chicago
°A. Vaitkuviene, MD, PhD (Lithuania) – Div. of Biomed. Technology. Inst. Applied Res.Vilnius University
°J. Vaitkus, PhD (Lithuania) – President, Lithuanian Physical Society, Vilnius University
© Copyright Prof. Dott.Guido Bastianelli - Designed by www.yourdigitalweb.com